Monarch Preschool for Children with Autism
Intensive, therapeutic, individualized early childhood program, in a supportive environment, that fosters meaningful communication and primary school readiness.
Students
Children ages 3 to 6 with a suspected or confirmed autism diagnosis. Younger children are considered upon evaluation.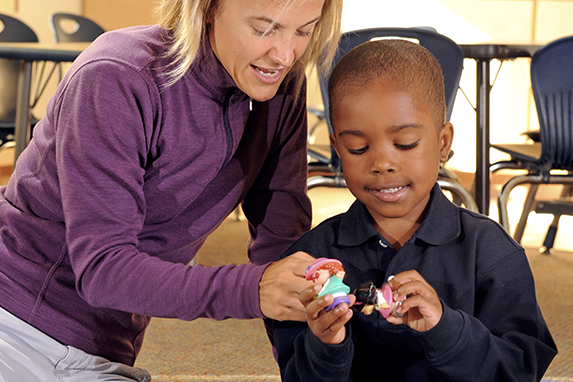 Curriculum
Curriculum is aligned with the Ohio Department of Education's Early Learning and Development Standards. Classes are taught in a natural environment and address social and play skill development, language-based communication, executive functioning, pre-academic skills, activities of daily living, fine and gross motor and imitation skills, sensory intervention, and behavior support. Students receive:
Speech/Language Therapy

Occupational Therapy

Applied Behavior Analysis

Sensory Intervention

Music Therapy

Art Lessons

Recreational Therapy

Pre-Academic Skills

School Readiness Skills

Activities of Daily Living
Monarch Model
The program combines concept-driven language instruction, visual supports, technology, and Applied Behavior Analysis (ABA). Individualized visual supports are created and implemented for each student around three primary constructs: Visual Instruction, Visual Expression and Visual Organization.
One-on-One Attention
Each student receives individual instruction from a team including a supervisor, intervention specialist, speech and occupational therapists, behavior specialist, music, art and recreational therapists, and associate teachers.
Scheduling
The program runs five days a week, 10½ months a year. Students may attend full day or half day (morning or afternoon).
Partnering with Families
Families receive daily communication, attend 3 meetings with teachers and therapists per year in addition to the IEP meeting, and may request home visits. Family networking and training sessions are also available.
Funding
Monarch is a provider for the Ohio Department of Education's Autism Scholarship Program, which covers the cost of 4, half-days.
Location
Monarch Preschool is located on the campus of Bellefaire JCB (22001 Fairmount Boulevard, Shaker Heights, Ohio 44118).